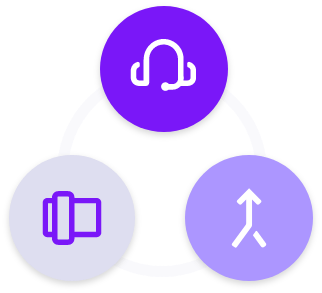 Fiber + Virtual PBX + Landline
PLANS TO YOUR MEASURE
Choose between fiber with fixed IP, if you need access via VPN from abroad, or fiber without fixed IP and cheaper. Get the maximum fiber speed so that no one in your company has to sit idly by waiting. Hire together with the fiber connection all the communications that your company needs: fiber, landline, mobile and switchboard.
BEST BUSINESS FIBER OFFERS
WHEN TO CONTRACT FIBER WITH FIXED IP
You need to contract fiber with fixed IP when…
You need to have remote control of applications and software via VPN
You need access to IP video surveillance cameras
You have a local server that you need to access from the outside.
You need access to the local network from anywhere (i.e., to configure computers), on a recurring basis.
You do not need to contract fiber with a fixed IP when…
You use cloud-hosted software
You use cameras accessible online via software
You have to configure a computer, you configure it on-site or through remote connection software running on networked computers.
You save the files on online servers, like Google Drive, instead of on a local server.
AVAILABLE FIXED IP FIBER SPEEDS