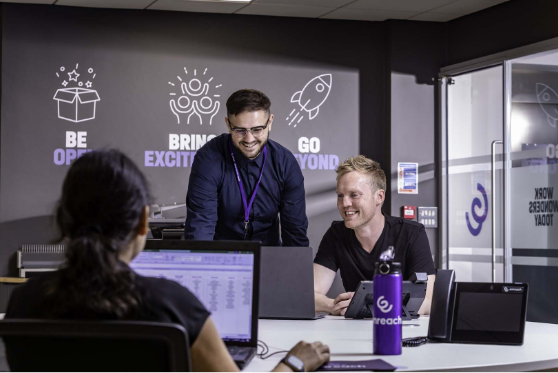 Competitive advantages for your clients
PARTNER PROGRAM
Are your customers looking for modern voice solutions? Contact us and find out how we can help you differentiate and complete your omnichannel offering with voice and telecommunications capabilities.
CUSTOMIZATION
SERVICE
SUPPORT
ADVICE
PROFITABILITY
TELEPHONY DISTRIBUTION FOR COMPANIES
Dealer Extranet
Enreach Contact is an advanced telephony service management portal. This interface has been designed to respond to the needs of the distributor. Even without technical knowledge, Enreach Contact can be easily used to view or change basic phone settings.
Access your distributor extranet and consult the complete list of clients and billing, as well as:
Assign telephone numbers to users

Create extension groups

Add or remove members from a group

Customize music on hold for incoming and outgoing calls by site

Manage corporate directories

View company call history

Manage incoming call rules

Get immediate status of connected devices

Get the status of all active services
Generate Commissions for Years Offering Telephony to Companies
Earn commission for each client you bring to Enreach and for each extension of services. Your client portfolio is like a snowball that is rolling and growing non-stop: your clients will grow and your commissions too, for years.
Connection Security
At Enreach we are aware of the need to guarantee the flow of information between the company and its clients. For this reason, we have measures in place to guarantee the security and confidentiality of the system. The access control to the Private Zone is carried out by means of the necessary introduction of a security code. To guarantee the correct functioning of the system, we recommend that you always keep your software updated. If you do not have the correct version, you can obtain it from the website of the corresponding provider.
The Experience
Enreach has once again been named the market leader for IP telephony and Unified Communications as a Service (UCaaS) in Europe, according to the annual Frost Radar report. Enreach has been the organization, based in Europe, with the highest score in terms of innovation. Enreach stands out especially in the five innovation criteria: scalability, research and development, product portfolio, mastery of trends and customer orientation.
Whether you are a consultant, business advisor, IT specialist, PBX reseller, system integrator or developer, we offer you more than 20 years of experience in converged telephony solutions.
STRATEGIC ALLIANCES


Enreach is a Microsoft Gold Partner and for this reason we continually evolve to incorporate our telephony experience into the services that Microsoft develops.
Your customers will make phone calls and set up Enreach numbering directly from their Teams user and can make calls to any number using Microsoft's Direct Routing and Operator Connect solutions.
In addition, make and receive your calls from Microsoft Dynamics 365, automate the creation of activities and the registration of call information, thanks to the integration with Enreach's Omnichannel Contact Center.

With the integration for Salesforce with the Enreach Omnichannel Contact Center, you can connect Salesforce effortlessly, at an unbeatable cost.
Improve your customers' call center and take advantage of the voice channel within Salesforce, offering great business opportunities to Salesforce partners.